Who is actually running this site and teaching me German?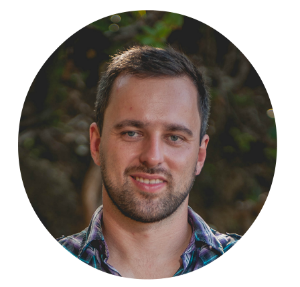 You are probably here because you want to know who is teaching on EasyDeutsch.
My name is Jan. I'm from a village  close to Dresden in Saxony. I speak German as my native language, am fluent in English and Portuguese, and speak pretty good Spanish. To be honest, I didn't study education; I studied tourism. But I didn´t like it that much and have been working as a German teacher for several years.
My love for languages wasn´t something that I discovered right away in school. The subjects English, French and German definitely weren't my favourites. To tell you the truth, I didn´t understand what my German teachers wanted to teach me. It was always really complicated, and I couldn´t see a system or even some rules behind all of that grammar stuff.  You know how that feels? I would guess "yes"! That means I was once in the same situation that you are in right now as you try to learn German.
Why are my explanations so much simpler than those your teachers have been giving you?
Looking back at my struggles learning languages in school I can now tell you: I wasn't the problem. It was my teachers and their complicated explanations. Probably all the teachers you have had so far studied education. That means they learned all the rules of German grammar at university. They know everything, but only from a teacher's point of view. They never were on the other side. My explanations are made from the student's point of view. I figured out all of the explanations on EasyDeutsch myself, with the help of the internet and of course other German teachers (In the same way you are trying to get your German started or take it to the next Level).
Anyways, I have to admit that I had a small advantage: I was learning my own native language. I was therefore in the position where I could take a look at a sentence and be 100% certain: ok, that´s definitely wrong. But everything else I just learned like somebody who is learning a second or third language.
That´s what makes my explanations easier to understand: they are written by a German student for German students.
My Goals with EasyDeutsch
I want to give everyone the possibility to learn German online. I want to help everybody who wants to learn this beautiful language. It should help students, as well as other teachers, improve their German skills.  In my opinion, German is a great language, and Germany, Austria and Switzerland are amazing countries with amazing people that you should be able to talk with and get to know better.
It is also my goal to show you that the German language's bad reputation as hard to learn isn´t quite true.  Usually it is really straightforward and even easier than English. The problem is the complicated way it is explained. I guide you along the easier path:
German grammar can be that easy!
Some examples how Adjective Declension, German Cases and Articles can be explained in an easy way as well:
Problems with Adjective Declension? Go to my Step-by-Step to the correct adjective ending guide.
Not sure when and how to use the dative, accusative, nominative or genitive case? Check out my Guide: In 4 Steps to the correct case.
Your teachers tell you that there are no rules for the articles and you have to learn it by heart? Ok, theoretically they are not wrong but there is a simple trick that let you GUESS correctly up to 75% of all genders!
Development of EasyDeutsch
EasyDeutsch is just getting started. A few days ago the grammar part went online in both German and English. I started with the first posts about vocabulary and dictations and until the end of April I will produce as much content as possible. Hopefully I will be able to start with some grammar exercises as well.
In May there won´t be as much new content because I will be traveling. But in June I will be back 100% and from then on there will be set days when I will publish new content about German grammar, vocabulary, dictations and advice about how to learn German.
During the summer I want to work on my Video German Class as well. So I still face a lot of work. If you want to stay in the loop on what´s new on EasyDeutsch, follow me on Facebook and Twitter and subscribe to my newsletter. I will send updates at least once a month with links and summaries to all the new information that was posted in the last 30 days.
[easy-social-like facebook="true" facebook_url="https://www.facebook.com/EasyDeutsch" twitter_follow="true" twitter_follow_user="EasyDeutsch" google_follow="true" google_follow_url="https://plus.google.com/b/103119812796307817812″ youtube="true" youtube_chanel="UCluY2ph0_l4rwlYEz_xHM6g" pinterest_pin="true" skin="flat" counters=0 align="left"]
[easy-social-share buttons="facebook,twitter,vk,google,weibo,whatsapp,mail" counters=0 hide_names="yes" template="clear-retina" facebook_text="Share on facebook" twitter_text="Share on Twitter" vk_text="Share on VK" google_text="Share on Google+" weibo_text="Share on Weibo" whatsapp_text="Send via Whatsapp" mail_text="Send via E-Mail"]
[et_bloom_inline optin_id=optin_3]