Sitsa Gioroglou

Mon, Wed, Thu, Fri 8 am to 12 pm CET

Tue from 8 am to 8 pm CET

Sat, Sun 11 am to 4 pm CET
Hi, my name is Sitsa and I am a professional German teacher with many years of experience in private and state schools and examiner of the telc tests. You are currently preparing for a test (TestDaF, telc, Goethe certificate A1-C2)?
Or would you like to learn German for your job?
This is exactly where I am specialized!
A few facts about my work:
Specialized in test preparation (TestDaF, telc, Goethe certificate A1-C2)
Native speaker (bilingual)
Language examiner of telc test
Several years experience as a German teacher with test preparation
Additional qualification for business German
Currently teacher at the Volkshochschule Rhein-Erft
Personal Strengths
Test preparation (TestDaF, telc, Goethe certificate A1-C2)

Business German
Conversation training and pronunciation
Lessons:
Online or in Cologne
35€ - 60min
Packages:
8 x 60 min: 260 € (20 € Discount)
20 x 60min: 650 € (50 € Discount)
30 x 60min. – Power package : 950 € (50 € Discount)
Couples and groups: On request
Trial lesson: Yes, 60min
"Learning is a treasure that will follow its owner everywhere."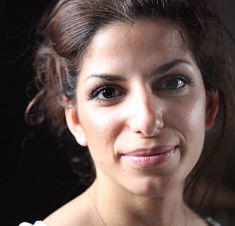 Sitsa
German teacher specialized in test preparation
I am the perfect teacher for you because:
As an experienced teacher and examiner, I will make sure that you get the best test result! We practice the written part of the test by not only consolidating the grammar, but also answering old exam questions and prepare you for the oral part of the exam. I stand by you with examination tips aside and will practice with you intensively the self-confident speaking.
I have so far prepared many learners from all over the world for examinations and am happy to accompany you. Together we will achieve a great result!
Milena PalavillaKolumbien
​The lessons with Sitsa are very well structured, the content is perfect for real conversations and professional purposes. My biggest problem was understanding some grammar rules and using them in conversation. After only a few hours I feel, thanks to their patience and their explanations, much safer to talk to other people and finally - they understand me!Sitsa speaks clearly and it is really very motivating to learn with her! I always enjoy the lesson, since he is also fun and very productive.I could not be more satisfied. Highly recommended!
Weitere Online Deutschlehrer:
Du hattest bei Dilyana Unterricht und möchtest deine Erfahrungen teilen? Super! Deine Meinung interessiert mich und Dilyana sicher auch!